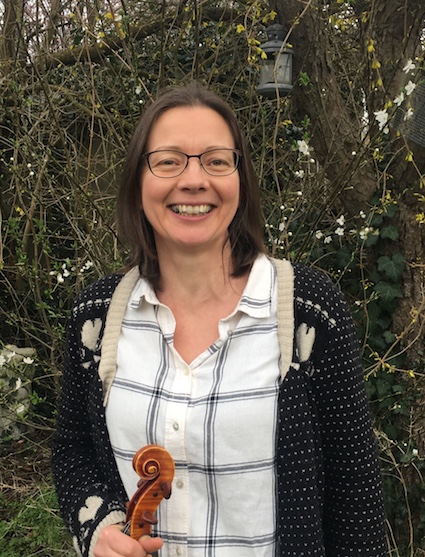 Karen Silverwood spent her school years playing violin and singing with the county youth orchestras and choirs of Leicestershire. She gained a scholarship to study voice (with Morag Noble) and violin (with Korshed Gruenberg and Richard Gwilt) at Trinity College of Music, London, where she was awarded the TCM string prize. She went on to study baroque violin in Milan with Enrico Gatti.
As a violinist and soprano she has performed in chamber ensembles throughout Northern Italy, and was a member of the European Community Baroque Orchestra, touring Europe and Japan.
As a teacher she worked in Italy and Cambridgeshire and became a Kindergarten Associate Teacher of the Szilvay Foundation using Kodaly principles. She now has her own teaching practice in Leicestershire and enjoys a variety of ensemble coaching, both instrumental and choral.
As well as the Hesperides Quartet, she can be found performing with local orchestras as leader and soloist, with baroque ensembles and ceilidh bands, in theatre pits and pop orchestras, and as a member of the 4tissimo string quartet.
She has recently trained as a naturopath and herbalist as well as a teacher of the enneagram in the Christian tradition.